TECHANDO EL COMEDOR 5 PANES
TECHANDO EL COMEDOR 5 PANES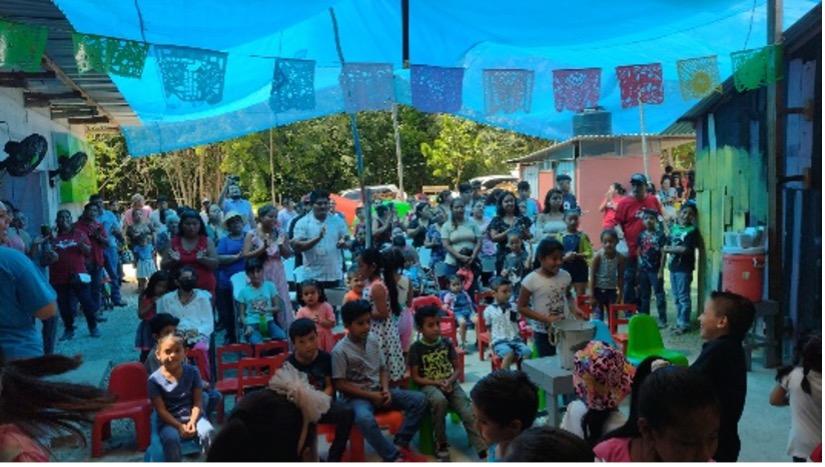 Crowdfunding
$100.00

recaudados de una meta de

$20,000.00
$100.00

raised from a goal of

$20,000.00

0.50% $20,000.00

1 donativos
Ver donantes

1 donatives
Ver donantes
10 de mayo de 2023 Faustino Alejandro $100.00 MXN
Nuestra historia
Conocimos la colonia Santa Marta durante la pandemia, nos sorprendió ver que en una ciudad como Cancún habitaban 80 familias que no tenían alimento, vestido ni educación, esto nos movió a llevar despensas, ropa y zapatos. Hoy en día, cuidamos de 100 familias que viven en situación vulnerable, hemos trabajado en equipo con la comunidad, benefactores y voluntarios para alimentar, vestir, educar, dar acceso a orientación médica e impartir principios y valores que mejorarán la condición de vida de estas familias.
Objetivo General
Promover la dignidad, el amor, la cohesión entre familias y los derechos de las personas que viven en comunidades en desarrollo, a través de atención integral que genere un impacto positivo en la calidad de vida de los beneficiarios.
¿Cómo se usarán los donativos?
Compraremos el material necesario para construir el techo del comedor donde atendemos a la comunidad y podremos también pagar la mano de obra.
Número de personas a beneficiar
446
Meta
$20,000
El impacto de tu donativo
$100 Aportas 1 kilo de clavos para fijar las láminas.
$300 Sumas 1 viga de pino para sostener el techo.
$500 Tendremos una lámina de acero galvanizada.
Tú puedes hacer la diferencia en la vida de una familia vulnerable.
About us
We got to know the Santa Marta neighborhood during the pandemic, we were surprised to see that in a city like Cancun there were 80 families who had no food, clothing or education, this moved us to bring food, clothes and shoes. Today, we care for 100 families living in vulnerable situations, we have worked as a team with the community, benefactors and volunteers to feed, clothe, educate, provide access to medical guidance and impart principles and values that will improve the living conditions of these families.
Objective
Promote dignity, love, cohesion among families and the rights of people living in developing communities, through comprehensive care that generates a positive impact on the quality of life of the beneficiaries.
How your donations are used?
We will buy the material needed to build the roof of the dining room where we serve the community and we will also be able to pay for the labor.
Number of people to benefit
446
Goal
$20,000
The impact of your donation
$100 You add 1 kilo of nails to fix the sheets.
$300 You add 1 pine beam to support the roof.
$500 We will have a galvanized steel sheet
You can make a difference in the life of a vulnerable family.